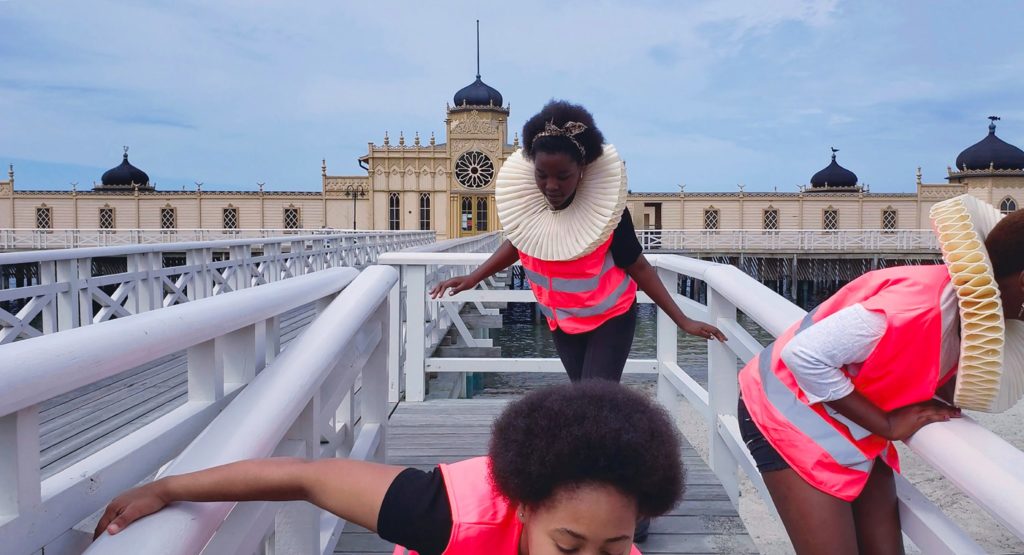 Mid-America Arts Alliance is pleased to present reflect / project, an exhibition series featuring socially engaged video work by a selection of artists who identify as Queer, Trans, Black, Indigenous, and persons of color. reflect / project incorporates social practice artists associated with the Interchange program, creating a digital outlet for modes of inquiry that have been affected by the distancing restrictions of the COVID-19 pandemic.
reflect / project features two works from Tulsa-based artist, writer, and experimental filmmaker of Black, Filipino, and Chinese descents, Crystal Z Campbell. This exhibition marks the worldwide premiere of Campbell's new short sound film, VIEWFINDER (TRT: 19'53 minutes). Filmed entirely in Sweden, Viewfinder takes cues from decisive moments and movements to explore belonging, allyship, and monuments.
Campbell's short film CURRENCY (TRT:2'53), is a sound-centric film of refusal—a woman wears bygone forms of currency on the tips of her hair while preserving the greatest currency for herself. Campbell has opted to highlight the work of two Oklahoma-based creatives for the online component: Osage artist Lydia Cheshewalla will share collaborative works from the Ephemeral Reliquaries series, and writer, educator, and arts administrator Christina Beatty has been commissioned to write a new essay responding to Campbell's films.
Campbell's two short films will be projected on a loop at M-AAA from 8:30 p.m. to 10 p.m. every evening continuing through September 3.
Visitors can engage the work with socially distanced viewing at any time during these hours, enjoying the films from the sidewalk, street, or parking lot in front of Mid-America Arts Alliance at 2018 Baltimore Ave in Kansas City's Crossroads Arts District.
Viewers can also stream the films on the reflect / project page, and learn more about Campbell and her work.