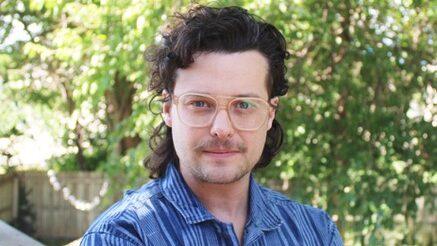 Kyle Mullins has been announced as the new Artist Services Program Officer at Mid-America Arts Alliance. Mullins will oversee the Artists 360 and Interchange grant programs. Mullins joined M-AAA as Artist Services Assistant in July 2021.
"When I see something amazing my first instinct is to run and tell everyone about it. I have to remind myself to slow down and enjoy it, too. When I love it, I want everyone to love it. That's why I love the work I do as an arts administrator – I get to support and lift up artists, art-making, and art work. And I get to tell everyone about it."
Kyle Mullins is an arts administrator, performance producer, and dance artist living and creating in Kansas City, MO. Kyle is an Artist Services Program Officer at Mid-America Arts Alliance, Director of the monthly dance series Making Moves, and Art Director for the public art exhibition Art in the Loop. As a generative dance artist he performs his own dance works as a soloist, creates works of dance-theater with his company Cerca Trova, and makes dance films. His work has been commissioned by dance companies, galleries, botanical gardens, University programs, professional theater stages in both New York City and Kansas City, and more. Kyle holds a MFA in Dance from New York University's Tisch School of the Arts.
Congratulations, Kyle!